Housing for acceleraTion sensor
This particular housing for acceleration sensors accommodates
electronics which must be mounted in the correct position in the vehicle.
The electronics are connected by press-fit-technology.
Requests to: info@2e-mechatronic.de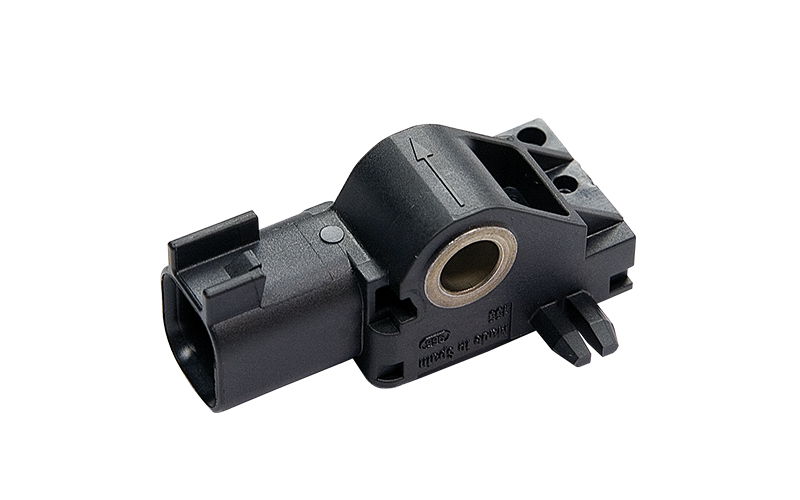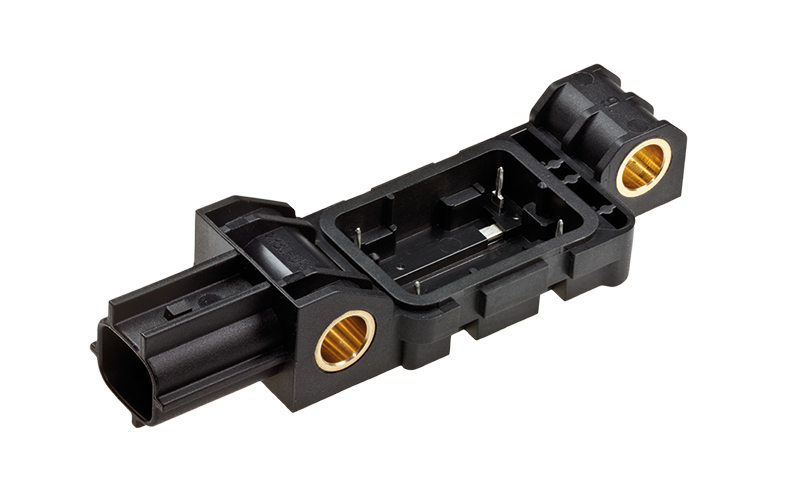 > Insulating body material
PBT, glass-fibre reinforced
selective tin-plated or silver-plated
Safety-relevant application, 3 varieties, 2 contacts + 2 fastening pins with press-fit zone, bushings, fully automated production and testing.
Further information is available directly via the download link:
Side airbag sensors - housing technology from the specialists
The airbag is an element which, in the best case scenario, the driver never sees, but which can save his life in an emergency. Our housings for side airbag sensors are manufactured in large quantities at a very high precision level, which is why many manufacturers entrust us with this demanding task.
Housing technology for airbag sensors
In most cases, specially adapted types of PBT plastic are used as the basic material. Due to their glass fibre reinforcement they are thermally very stable and highly resistant to mechanical damage. The contacts are made of tin bronze and are selectively tin-plated or silver-plated to ensure the best possible contact. This ensures low contact resistance and little heat generation. The electronics are connected with press-fit technology and the on-board electronics with an integrated connector. The overmoulded metal bushing ensures reliable mechanical fastening in the vehicle. The housing is sealed by laser transmission welding.
Advantages of fully automated production
The demands placed on electronics and thus on the housings that engage the brake and airbag control systems place the highest demands on component quality. Only fully automated production and testing processes allow very large quantities to be produced at a consistently high quality. Each piece is manufactured in a single process and tested in-line for dimensional accuracy, tightness, technical cleanliness and function. The continuous monitoring, refinement and improvement of the processes is an ongoing task. Individual customer requirements can be taken into account by making changes to the tools. Our manufacturing processes are certified according to IATF 16949 and thus meet all quality requirements for supplying the automotive industry.
Our company is certified according to IATF 16949 and ISO 14001.
Details about the certification can be found here www.tuev-sued.com/ms-zert