LDS producT sample (flow sensor)
LDS producT sample (flow sensor)
Thermal flow sensor for measuring the smallest air flows. The sensor is installed as a SMD. Integration of fluidic, electrical and mechanical functions. Application example: volume flow controller in air-conditioning technology.
Requests to: info@2e-mechatronic.de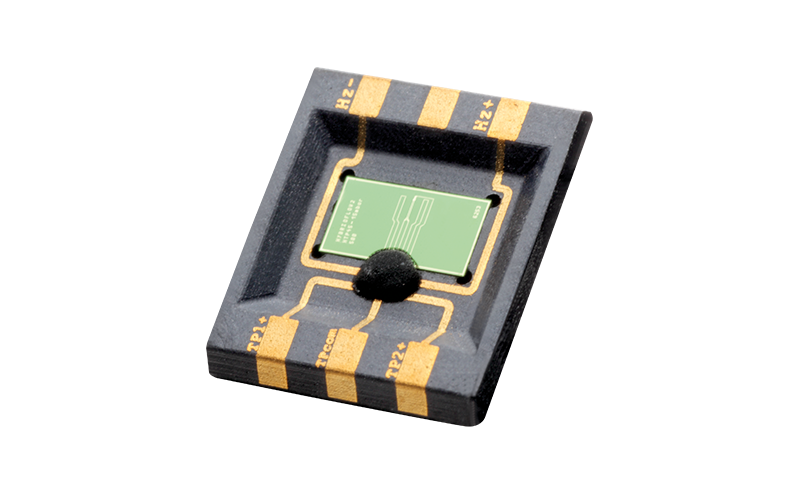 > Output Signal (Difference)
> max. Flow Rate (Direct)
> Differential pressure (standard)
Flow sensors in the MID-LDS Technology
2E and several partners developed a housing for an innovative flow sensor in MID-LDS technology as part of a funded research project. The many advantages of this innovation are described below.
Design and application of the LDS-MID flow sensor
A small injection-moulded sensor housing with fluidic connections is provided with conductive tracks using MID-LDS technology. The flow sensor chip is then glued in place and electrically contacted by the bonding process. Attaching the fluidic connections tightly to the chip and designing the conductor paths in such a way that they can be bonded is quite a challenge. The whole component can then be soldered onto a circuit board like an SMD component. Areas of application are, for example, volume flow controls in air-conditioning systems. In these application the flow sensor serves as a differential pressure sensor and thus controls the air-conditioning flaps.
Advantages compared to the previous solution
The previous solution used a plastic housing with an injection-moulded fluidic part, which subsequently had to be equipped with lid prone to defect. The original chip did not contain a fluidic system. The control board was connected via a cable. Mounting the sensor in the air-conditioning duct was rather cumbersome. The MID-LDS solution, on the other hand, uses a newly developed chip with integrated fluidic part. This can then be tightly glued and contacted in the MID housing. The housing is then assembled directly onto the PCB. The integration of fluidic, electrical and mechanical functions results in significant miniaturization. In addition, assembly is made easier by the SMD-capability of the housing. The error-prone lidding of the fluidic system is completely eliminated.
Our company is certified according to IATF 16949 and ISO 14001.
Details about the certification can be found here www.tuev-sued.com/ms-zert