Housing for magneTic angle sensors
Contactless rotary position sensors based on the Hall Effect principle are, for example, used in mobile agricultural and construction machinery.
Request to: info@2e-mechatronic.de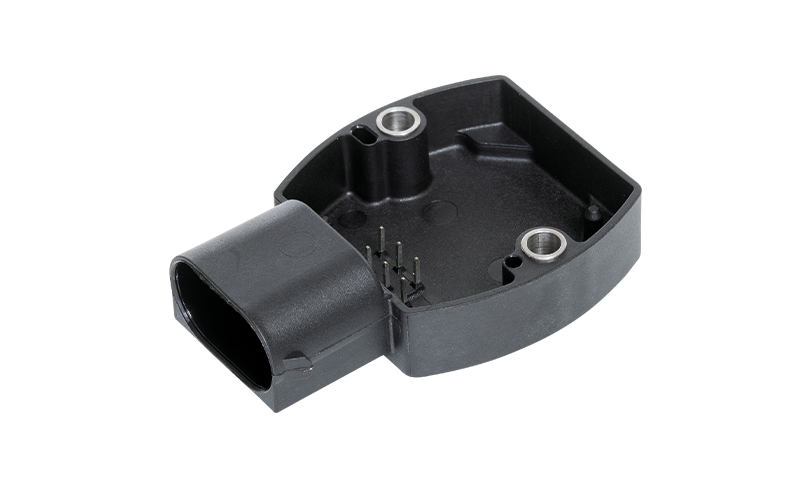 > Insulating body material
PBT, glass-fibre reinforced
fully tin-plated and nickel-plated
(6 contacts in 2 rows, 2 bushes made of chrome steel) economical production by semi-automatic process for small / medium quantities, suitable for safety-critical applications.
Further information is available via the download link:
Magnetic position measurement
When current flows through a Hall element, it supplies a voltage perpendicular to the current flow if a magnetic field acts vertically on both. . As this voltage runs proportionally to the magnetic field strength, it is extremely simple to conduct a non-contacting and absolute angular and displacement measurement by attaching a position magnet at the movable machine part. Complex systems can be installed in extremely small spaces by combining several sensor elements and integrating the entire signal processing in a few components. The systems work largely insensitive to ageing and independently of field strength fluctuations of the transducer magnets. Both contactless, i.e. guided, and non-contacting, i.e. 2-part, systems make it possible to measure angles of up to a full 360° and even over several revolutions or displacements of up to 50 mm. High resolutions with excellent dynamics, high mechanical tolerances and fast feasibility of customized special solutions are additional convincing features of this technology.
Our company is certified according to IATF 16949 and ISO 14001.
Details about the certification can be found here www.tuev-sued.com/ms-zert