The LED diode is characterized by superior light quality and long service life. Conventional solutions can be replaced without trouble. Customer-specific designs are possible. Areas of application include dental treatment units.
Requests to: info@2e-mechatronic.de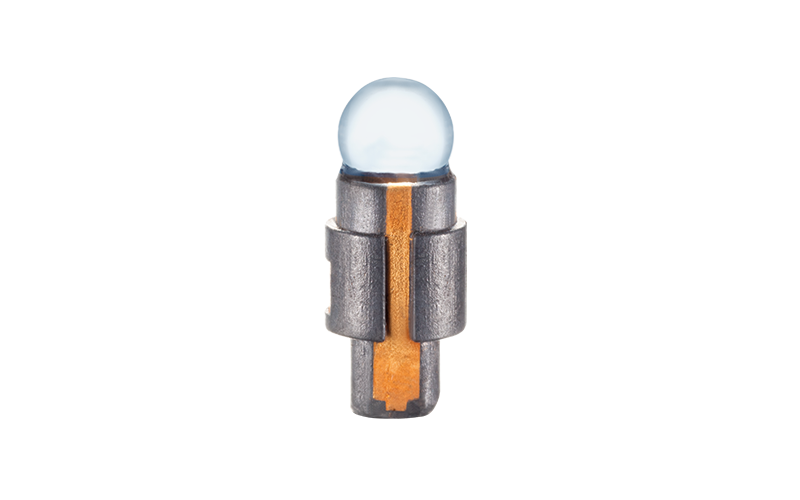 customized (e.g. plug-in-base)
> Temperature development
Further information is available directly via the download link:
LED diode in MID-LDS technology
2E develops and produces LED diodes for a wide range of applications on the basis of highly innovative MID technology.
(Mechatronic Integrated Devices). Obsolete halogen lamp-based solutions can thus be replaced without trouble.
Design and use of the LED diodes
The use of MID-LDS technology facilitates the implementation of customized solutions. This technology makes it possible to mount conductor tracks onto three-dimensional, injection-moulded plug bases. This plug base can then be equipped with an LED and, if necessary, a dropper resistor. A glass sphere is used as a lens, which is either clipped in or glued on. These lighting elements are used, for example, in dental treatment units.
Our LED diodes can replace conventional light sources such as halogen lamps without trouble. The plastic base can be designed such a way that the existing socket can still be used. This means that no additional adaptation work on the socket is necessary. In addition, the LED solution reduces consumption, which is particularly advantageous for battery-operated devices. The service life of the light source is also greatly increased. Furthermore, when using an LED, the colour of light can be selected according to requirements, thus significantly increasing the quality of light.
Our company is certified according to IATF 16949 and ISO 14001.
Details about the certification can be found here www.tuev-sued.com/ms-zert