Housing for
exhausT gas analysis
NOx sensors are a part of the exhaust aftertreatment system in vehicles. NOx refers to various gaseous oxides of nitrogen that, among other things, are produced by the combustion of fossil fuels.
Request to: info@2e-mechatronic.de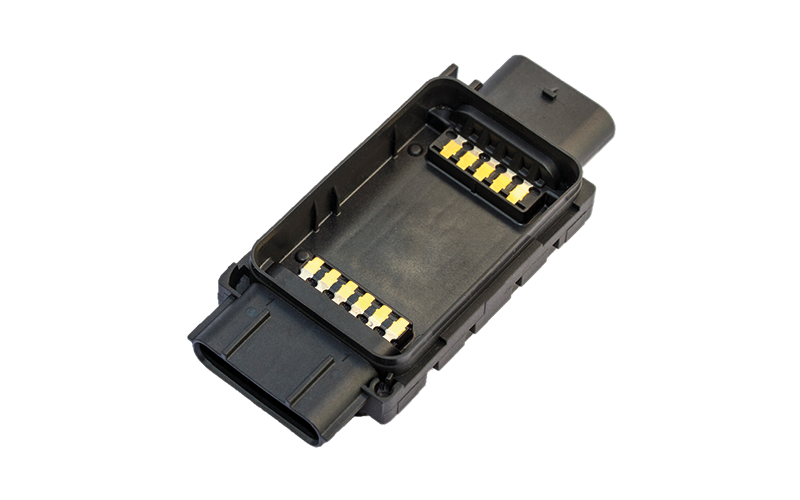 > Insulating body material
PBT, glass-fibre reinforced, laser-markable
Wrought copper alloy, bondable
selectively tin-plated, silver-plated, gold-plated
Bond technology – variant management – fully automated production – 8 variants – 5+6 contacts with bondable connection, laser-welded rim
Further information is available via the download link:
Housing technology for nitrogen oxide sensors
NOx is used as a collective term for nitrogen monoxide and nitrogen dioxide. These gases are produced, for example, during the combustion of fuel in the engine and are then guided through the aftertreatment in the exhaust system. This process reduces the emission of dangerous nitrogen oxides to a minimum and serves to improve air quality.
High-quality NOx housing technology
The complex electronics of nitrogen oxide sensors require a robust housing. Mounted near the exhaust system, the thermal and mechanical load exercised by temperature differences and vibrations strains the plastic housing. Glass-fibre-reinforced PBT withstands these stresses over very long periods and can also be processed dimensionally accurately. In addition to dimensional accuracy, cleanliness plays a major role in housings for miniaturised electronics, especially in bonding applications. Besides avoiding metallic particles in the process, the bonding surfaces must also be protected against any greasy contamination. This must be taken into account when designing the equipment, gripper systems and tools. In addition, the inserts and finished parts have to be handled in a specially coordinated procedure. Production on fully automated lines allows large quantities to be manufactured while achieving excellent quality. This also secures a competitive advantage in globalized markets. Regular reviews in line with our IATF 16949 certification guarantee that the quality of our products reliably meets the highest standards.
Housing technology for sensor electronics from the specialists
Our manufacturing method allows us the greatest possible flexibility in accommodating our customer's requests. This applies, for example, to the housing shape and size as well as the selection of the materials used, such as plastics, contacts or bushings. A housing specially designed for the part and customized constructional features result in a truly customized product.
Our company is certified according to IATF 16949 and ISO 14001.
Details about the certification can be found here www.tuev-sued.com/ms-zert