Housing for auTomaTic sTarT sTop sysTem
The automatic start/stop system is also used in commercial vehicles. It reduces consumption and CO2 emissions, especially when there are frequent stops.
Requests to: info@2e-mechatronic.de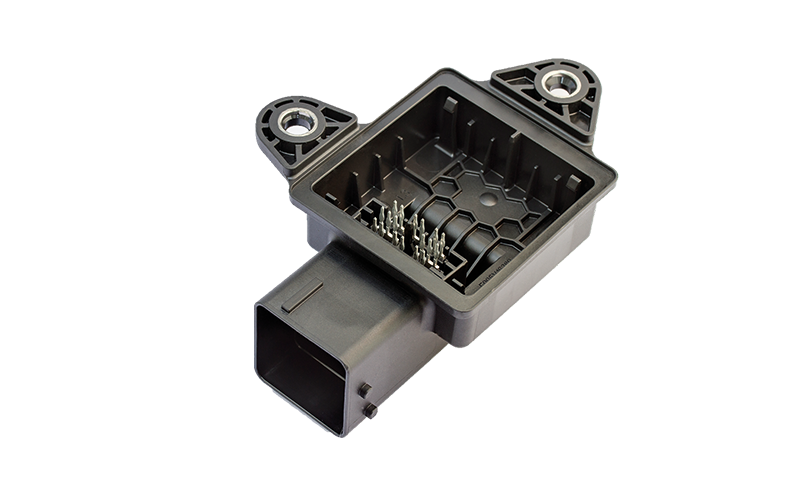 > Insulating body material
PBT, glass-fibre reinforced
selectively tin-plated and nickel-plated
5 contacts in 3 rows with a multiple press-in zone per contact, fully automated production
Further information is available directly via the download link:
Housing technology for starter control units
This control system is used to switch off the vehicle's engine during short idle periods. This function, commonly referred to as start-stop system, results in fuel savings and noise reduction.
High-precision plastic hybrids from a certified manufacturer
The injection moulding process is integrated into the fully automated production line, and is therefore also suitable for very high production volumes. Compliance with important properties is ensured by an automated in-line testing machine. The flexible design of our system is geared to accommodate the customer's wishes right from the beginning. This approach of individual solutions is also applied to insert parts, such as connection pins, contact pins or bushings and to the plastics which are chosen to meet the customer's special requirements. Due to its excellent suitability for use in the automobile industry, polybutylene terephthalate is often the material of choice. However, there are naturally also other materials available to meet special applications. The contacts are usually made of tin bronze with selectively galvanised areas and thus have very low contact resistances.
Our company is certified according to IATF 16949 and ISO 14001.
Details about the certification can be found here www.tuev-sued.com/ms-zert